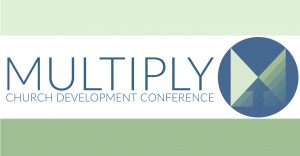 From October 18-20, 2018, the fourth annual MULTIPLY Church Development Conference will take place in Colorado Springs, CO. The Director of Church Development and the Council on Ministry have been working to help provide an opportunity for those who are seeking to start new SDB expressions of faith or revitalizing their ministry to have a place to learn and connect.
We are partnering with Frontline Church Planting and their annual MULTIPLY Conference to serve SDBs. Leaders and speakers from around the country will gather for this weekend to share stories, knowledge, and strategies with one another. SDBs will have their own sessions as a cohort before, after, and during to discuss specifically SDB related challenges.
We believe that there is great traction in advancing God's Kingdom when mission-minded leaders gather to connect, reflect, and dream about what God is doing in our midst. There will be great content but we also believe that there will be great relationships built. It is our hope that by gathering leaders who dare to dream that God can and will do something fresh among SDBs as He allows His work to be done among ordinary folks like us.
NEW THIS YEAR! The weekend will start Thursday, October 18 at 9am at 719 Commons, with a pre-conference event that includes 3 sessions with some missional leaders from around Colorado and some of the speakers from the Friday MULTIPLY Conference. On Friday, we will join with others attending the MULTIPLY Conference where there will be a variety of topics and options of learning available through the main sessions and breakouts to speak to you where your ministry is currently at. On Saturday, we will meet together again as SDBs to worship at SpringsLife Church and talk about SDB-specific challenges in our ministries and to pray for one another. Please arrive when you can for the long weekend of events. 
The MULTIPLY Church Development Conference is open to all who are interested in breathing new life into their local church or our family of churches. There will be no cost for registration or food (on Thursday, Friday and Saturday). The only cost for you is lodging ($100 unless you make your own arrangements) and your travel (we will arrange for pickup at the Colorado Springs Airport COS). We are looking forward to seeing you or a team from your church there!
You can register for MULTIPLY 2018 right here. Registration ends October 3!
Testimonial:
"MULTIPLY was a gathering of leaders who are pushing into new territory while attempting to encourage other pioneers with shared tools, experiences, prayer, testimony, and vision. I believe this is the kind of wineskin that God will use to shape our church in for years to come." – 2016 MULTIPLY Church Development Conference Attender
TENTATIVE SCHEDULE
Wednesday, October 17, 2018
Arrive in Colorado Springs to Sonesta ES Suites or your own accommodations. (Meals on your own.)
Thursday, October 18, 2018
Breakfast @ Sonesta ES Suites or on your own
9am-11:30am   Pre-Conference Session 1 @ 719 Commons
11:30am-1pm   Lunch @ 719 Commons
1pm-5pm          Pre-Conference Session 2 @ 719 Commons 
5pm-6:30pm   Dinner @ SpringsLife Church 
6:30pm-8pm   Pre-Conference Session 3 @ 719 Commons 
Friday, October 19, 2018
Breakfast @ Sonesta ES Suites or on your own
8:45am             MULTIPLY Conference @ Vanguard Church Central
Lunch and Dinner will be @ Vanguard Church Central
Saturday, October 20, 2018
Breakfast @ Sonesta ES Suites or on your own
11am                 Worship @ SpringsLife Church
1pm                   Lunch @ SpringsLife Church
3pm                  SDB Cohort @ 719 Commons
Dinner @ 719 Commons
LODGING
You are free to arrange your own lodging. There are hundreds of hotels in Colorado Springs. If you make your own housing arrangements, you will also need to make your own transportation arrangements. 

For $100, you can get four nights of lodging at Sonesta ES Suites (shared room). Transportation will be provided to and from events if you lodge at Sonesta ES Suites. 
TRANSPORTATION
Transportation will be provided to and from the Colorado Springs Airport (COS). If you fly into another airport, you will need to your own transportation. 
NOTE: There is a shuttle that goes from the Denver Airport to the Academy Hotel. Transportation can be provided to and from the shuttle stop at the Academy Hotel. 
MEALS
Meals are on your own for Wednesday and Sunday. There will be continental breakfast items available at Sonesta ES Suites.
Meals will be provided Thursday, Friday and Saturday. 
OTHER
Dress for the weekend is casual. However, in Colorado, it is possible for us to experience all four seasons in one day. So you may want to pack an umbrella or a jacket in case.